Horizon Radio London's Legendary Soul Music Station
Horizon Radio London's Legendary Soul Music Station began broadcasting in October 1981 on 94.4 VHF FM. During its lifetime, the station grew from the concept idea of being a small local area broadcaster I.E. Camberwell, Brixton and Peckham London, into covering the whole of London and much of the Home Counties. The radio station voluntary closed in  September 1985 as the most listened to soul music station ever.
Over those 4 magical years Horizon Radio broadcast, the station set the standards so high, others could not compete hence some turned to misinformation and outright lies just to gain bragging rights. The time has finally come to get the truth told and those who did tell those tall story's will now help to tell you how it really was back in those pioneering days of Horizon Radio, London's first 24/7 Soul Radio Station.
We have had so many requests for a website to tell the true story. The original members of the Horizon Radio Soul Family, people like Karl Niles, James Brown, Noel (London), Paul Randall, Mark Bri (Hertfordshire) & many other soul music fans have asked so many times for this website. So Guys, here is your request in full.
Horizon Radio London's Legendary Soul Station broadcast on 94.4/5 Vhf fm, 104 Vhf fm, 102.5 Vhf fm and MW. The story of how Horizon Radio became the most listened to Soul Radio Station in London and Home Counties is here now for you to read.  This is the original Horizon Radio, not to be confused with others who unsuccessfully tried to use the name in 1987 and 1989. It's Time For The Truth.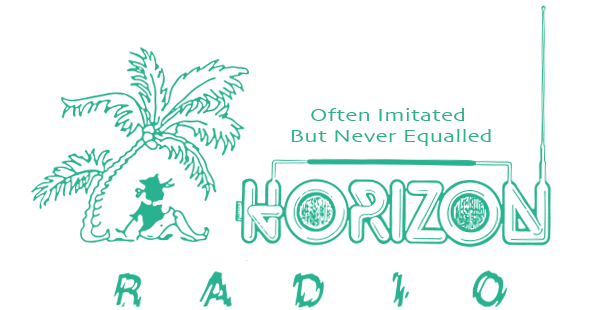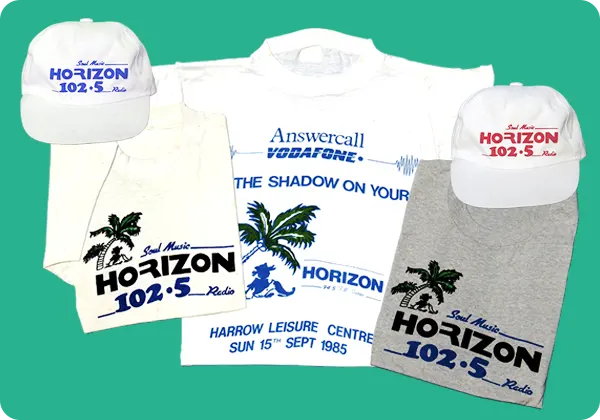 Contact Us
If you have a story to tell about Horizon Radio London or want to share photo's to include on this website, please email us from here with your content or suggestions. If you send content to us, we will assume you give authority to publish. Please do not send content that is not to be published.
Contact Horizon Radio London
Horizon Radio 1981 to 1985
London's Legendary Soul Music station set the standards that others that came later are still striving to attain today. When the station voluntary closed down in 1985, even the legal radio stations of the day were asking the question "How On Earth Did You Make Horizon Radio The Most Listened To Radio Station In London". It is not known if Horizon Radio was the most listened to radio station in London, but nevertheless a nice complement to hear from those who worked in the legal radio industry at the time and asked the question many times.
Horizon Radio very nearly never came into being, as one of the co-founders really did not want to get involved with unlicensed broadcasting. It took Nigel Walton (ex Radio Jackie) one of the co-founders a long time to get Chris Stewart to agree to give it a try.
The first broadcast came on the 11th of October 1981 from the roof of Conniston House, a tower-block in Camberwell London SE5. Two one-hour shows had been per-recorded By Nigel & Chris (both club DJ's) and played out by an auto reverse cassette machine and a 5 watt VHF FM transmitter 0n 94.4 Vhf. This continued for 2 hours every Sunday right up until Christmas 1981. The first live shows via a link on 108.5Vhf FM were broadcast at Christmas 1981. That night Horizon Radio did suffer a visit from the RID and lost the transmitter and cassette player.
In early 1982 a studio was constructed in the roof of Comber House, no doors just windows to enter and leave by. 5 floors up and no one but the every growing DJ roster knew it was there. Around the same time a transmitter was installed on a tower block in Rye Hill Park Peckham Nunhead. This transmitter could not be found as if anyone (RID) moved the hatch to the roof, it would turn off the power to the transmitter and disconnect the antenna coax. This transmitter lasted over 12 months before the system was finally found. 1982 also saw Wednesday nights being added to the schedule of Sunday Nights and Long Bank Holidays along with the first outside broadcast.
1983 at Easter, Horizon Radio venture out of that hidden studio into clubland and the first alldayer. The Idea was to see what kind of following the station had. Kisses in Peckam the venue was full in minutes with queues outside. The second Bank Holiday of the year was just the same. August 1983 Bank Holiday saw a move to a bigger Venue at The Podium 1 Nine Elms Lane Vauxhall. This was full again in minutes. This event was broadcast live and thousands turned up just parking their cars, turning up their stereos and dancing in the street. The area was a complete roadblock nothing moved for hour's (traffic wise). This was also the day the phrase Soul Family was born.
1983/4 thanks to Radio Jackie a loop hole was found in the 1947 wireless telegraphy act. Horizon Radio moved from London's tower blocks to a privately owned building at 70 Westow Hill corner of  St Aubyn's Road, Crystal Palace and put up a 50ft antenna mast, then switched on 24/7 in early March 1984. The station at the time was running 3 transmitters, 94.5 Vhf, 104 Vhf and on MW. Instantaneously there was a interference problem with Gas Board Communication receivers which saw a visit from the RID in late March. That visit confirmed the loophole as the transmitter which the RID tried to takeaway, had to be given back. Horizon Radio worked with the Gas Board engineers and found that any transmitter above 102.6 Vhf caused interference to Gas Board Communications. Horizon Radio at the Gas Boards request  moved down to 102.5 Vhf which did not cause problems. 7 months of 24 hour uninterrupted broadcasting commenced.
This was The Summer Of Soul In London. Further information about 1984 and 1985 is contained on the About Us Pages.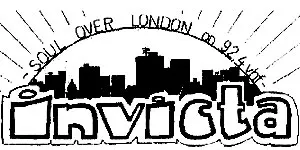 Radio Invicta was the first soul music radio station in the UK, the idea of Tony Johns (R.I.E.P.). Tony you inspired us Thank You. Radio Invicta gave Sundays & Bank-holidays a very special meaning.
Tony Johns, Steve Devonne and the rest of the team on a Sunday afternoon and long bank holidays, nothing was better.
Sadly the RID and other problems saw broadcast hours diminishing by 1981. Radio Invicta finally called it a day in 1984. The original Soul Radio Station that gave happiness to thousands of Soul Music Lovers across the Capital and beyond.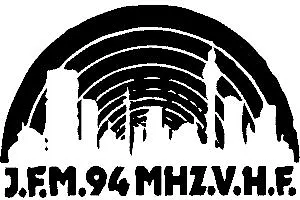 JFM (Brian Anthony) (R.I.E.P Brian)  took up the challenge after Invicta started to fade and for a long time made a brilliant job of it. Live every Sunday from morning till night, quality too.
JFM too suffered broadcasting problems, so hours became erratic as the transmitter mysteriously grew legs and jumped into a Red Astra? The station's studio location was finally grassed up to the authorities in late December 1984, resulting in JFM being raided in the second week of January 1985 and taken off air, never to return.
The Studios.
Over the years Horizon Radio had 8 studio locations hidden away in South London. The first studio was very basic and featured 2 Garrard turntables, a disco mixer with a Shure microphone along with two cassette decks.
In the early days all broadcasts were pre recorded and used an auto reverse cassette player to play the DJ's shows. By the Summer of 1982 broadcasts were live and even live Outside Broadcasts where happening
Studio one was located in the kitchen at 28 Comber House, Comber Grove Camberwell, London SE5. Studio 2 was the studio that gave you the scare of your life when you attempted to enter. Not because of any traps set to catch out any uninvited guests, but due to the location.
Photo's in those days were not recommended for security reasons, so photo's are few and far between. Click the button below for to view some of those Horizon Radio studio's.
Engineering @ Horizon

The engineering side of Horizon Radio is a story in its self and shows what can be achieved when you are determined to succeed. The first broadcast by Horizon Radio took place in October 1981 from Conniston House, a tower-block in Camberwell London SE5.
Nigel (Co founder) had finally built the 5 watt FM transmitter, after many months of failure with other designs. Unfortunately this transmitter also had a habit of drifting which we knew nothing about until the Pimlico meeting which changed Horizon for the better.
What came after with transmitter and link building, simply should not have happened as someone who had not had any electrical training went on to create so many transmitters, that kept the station on air and maximised broadcast time that no other station could match. A raid on the Comber House flat in the early 1983 saw Eric Gotts say "My God it's a transmitter factory". Yes Mr Gotts it was and as soon as you left it expanded, as you took a transmitter, but by law you should not have? The first question Mr Gotts asked was where Is "Mr Howe"? Chris replied who the hell is Mr Howe. Horizon did find out later who Mr Roger Howe was?
In Tower Block Tales you will learn about the transmission sites Horizon Radio used, the hidden transmitters that even Eric could not find and the day Eric's men met the caretakers and got told off (so funny).
As Long As The Day Dawns There Will Always Be An Horizon
These were the final words used on Horizon Radio on the 15th of September in 1985 when Chris Stewart closed the station down for the final time.
Horizon Radio London's Legendary Soul Station Share With Friends
Soul On A Summers Day In St George Park Wandsworth London 14th July 1984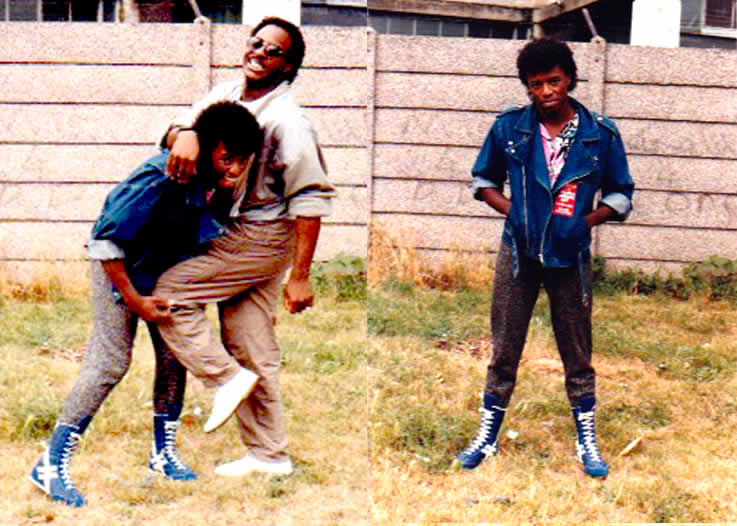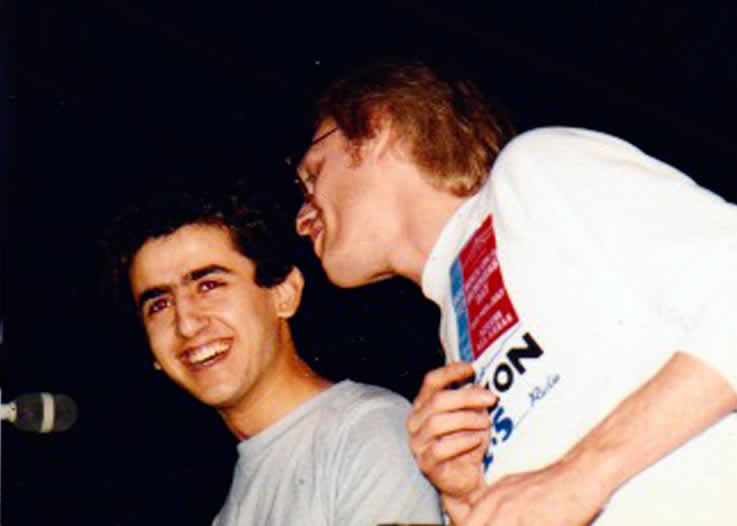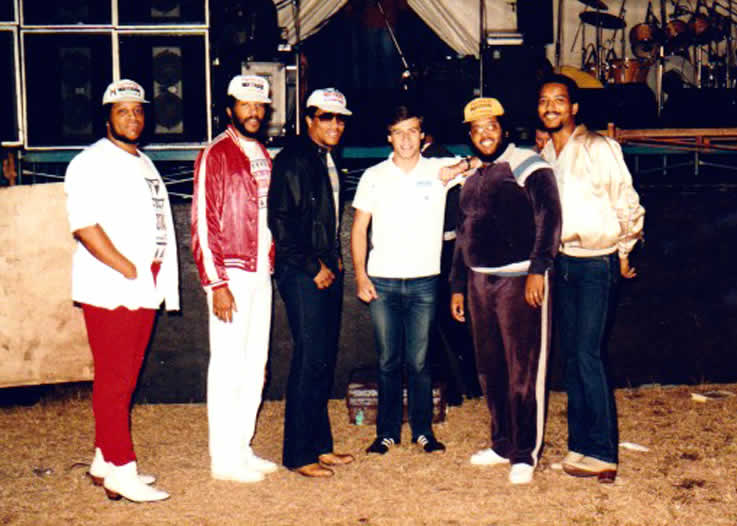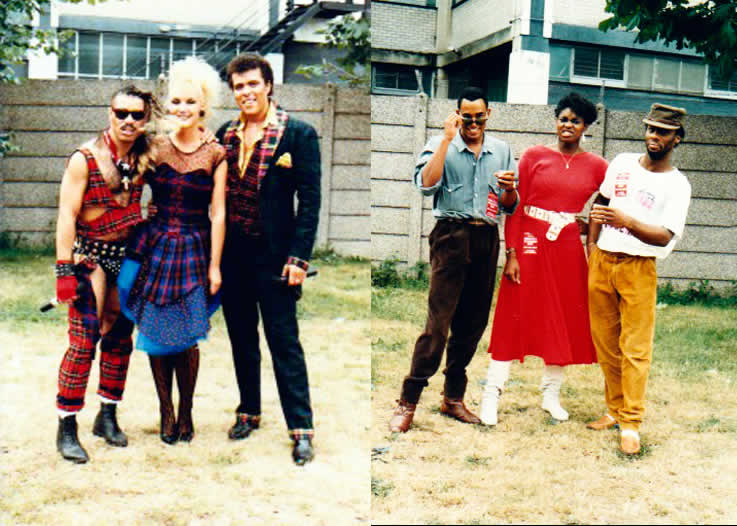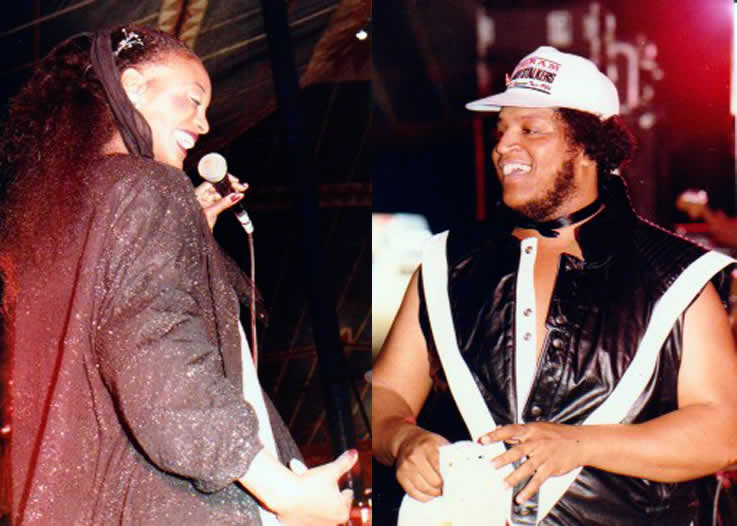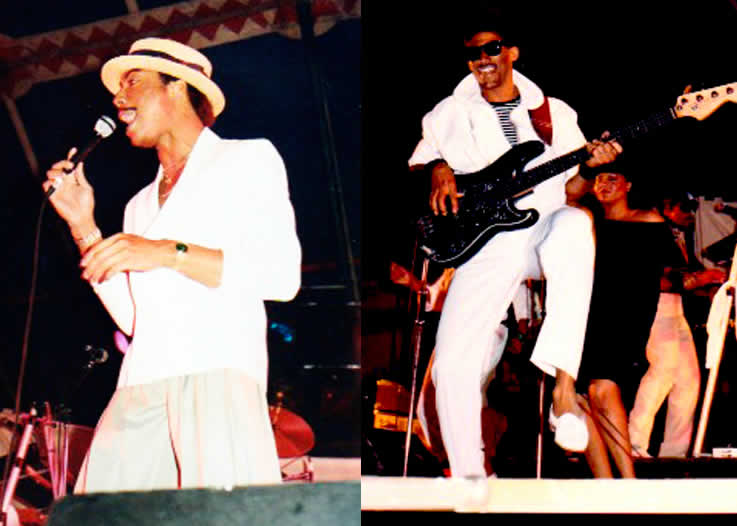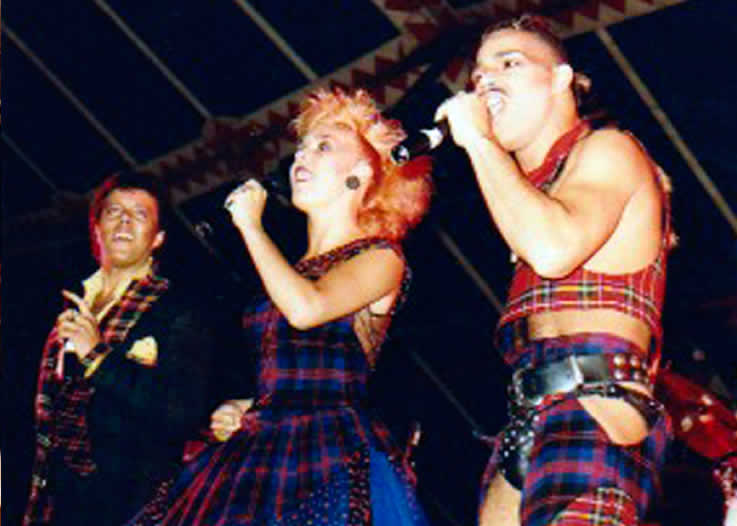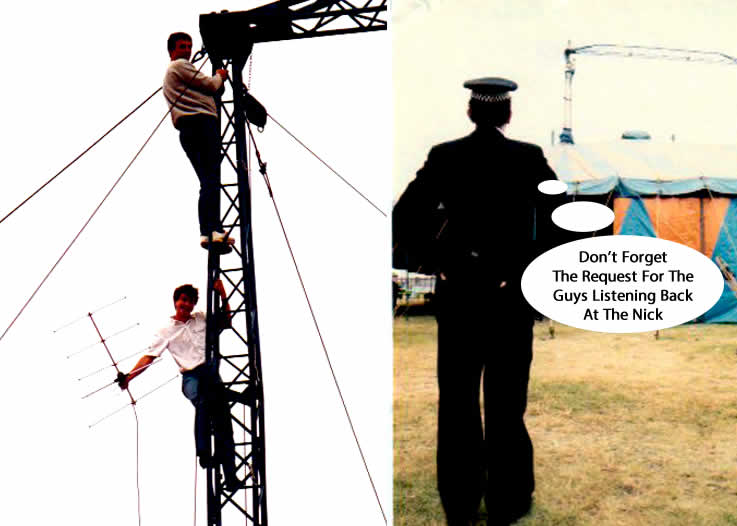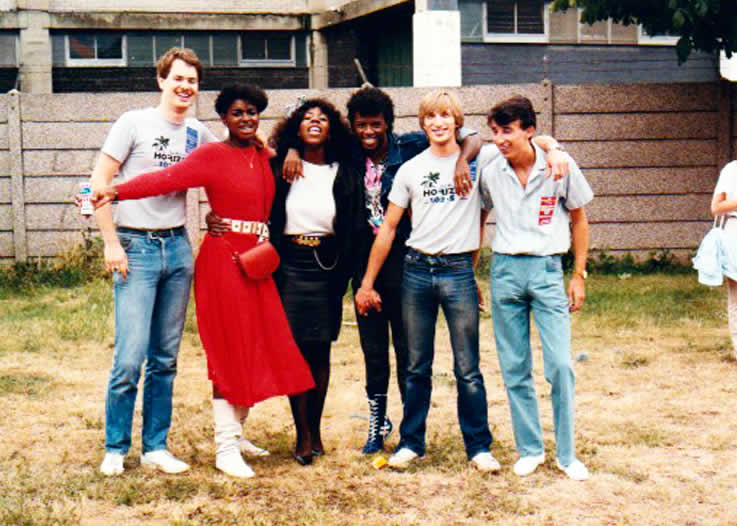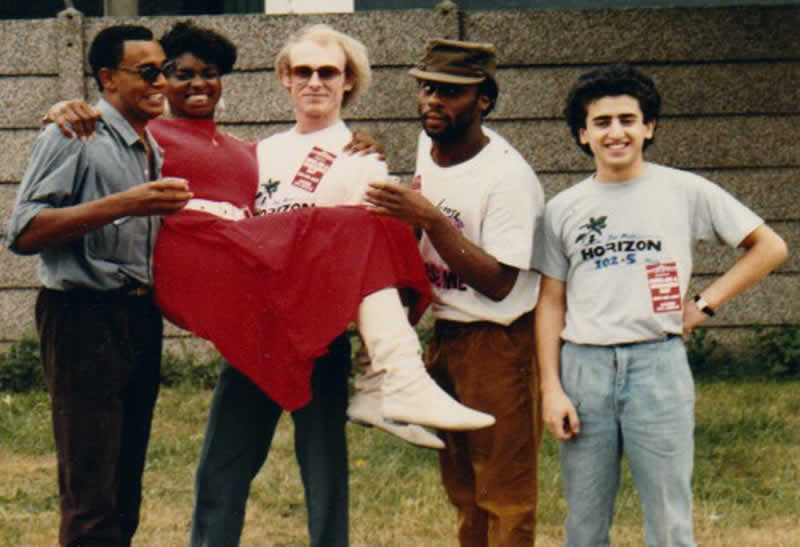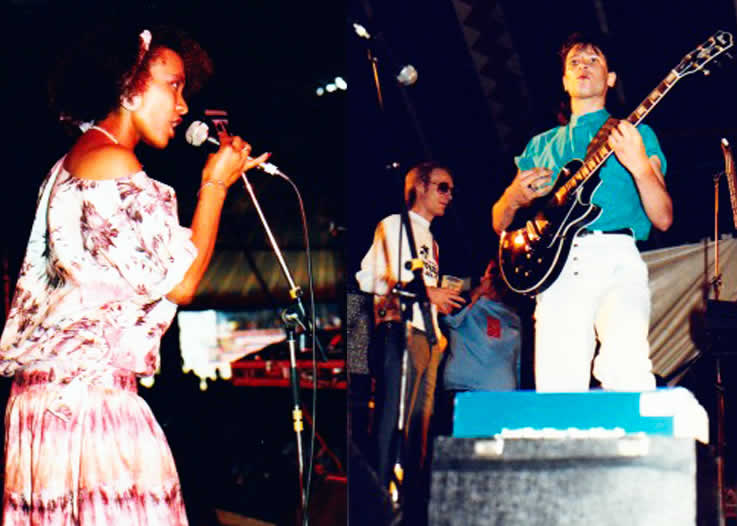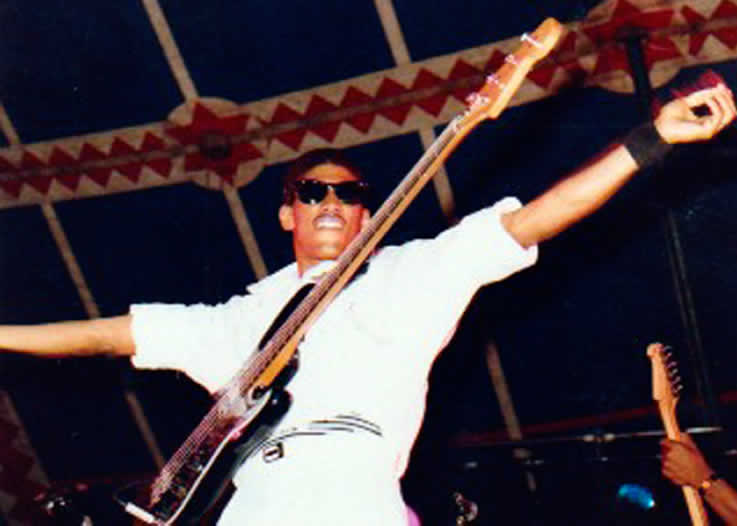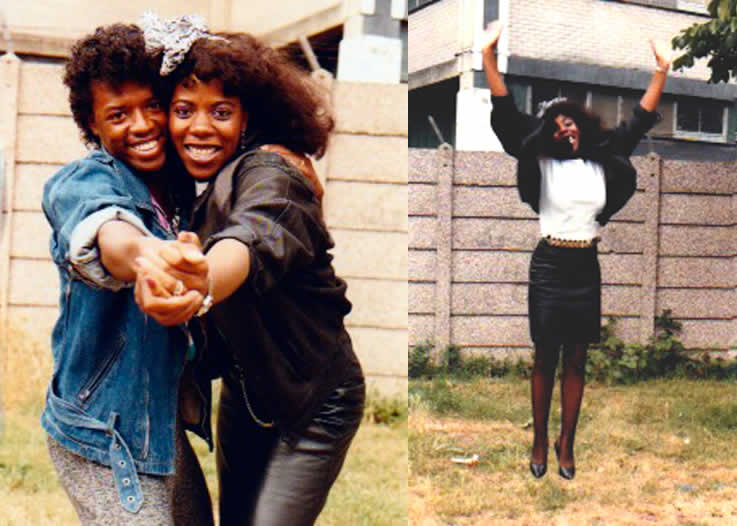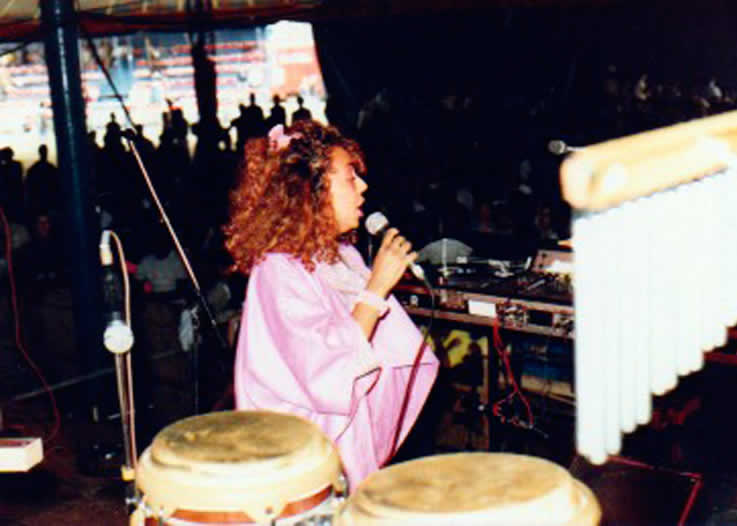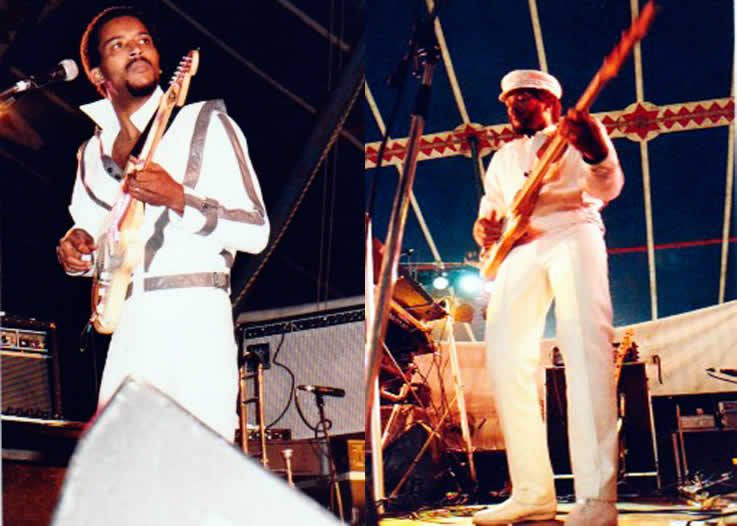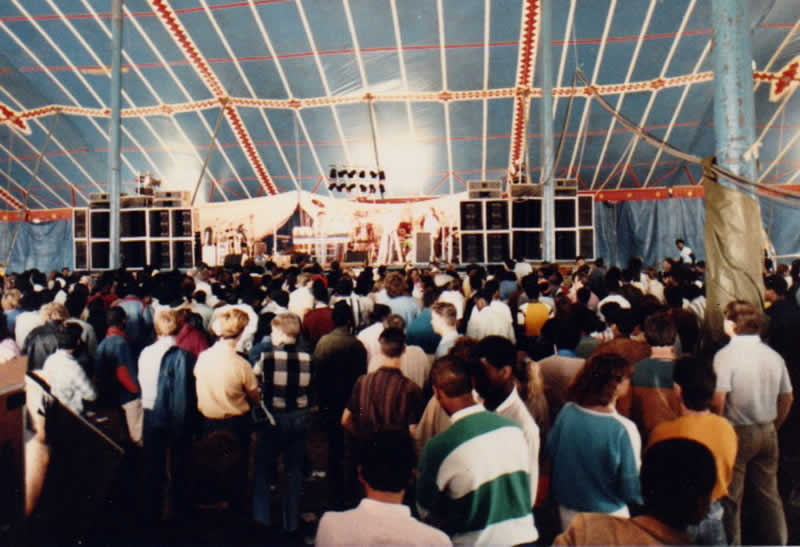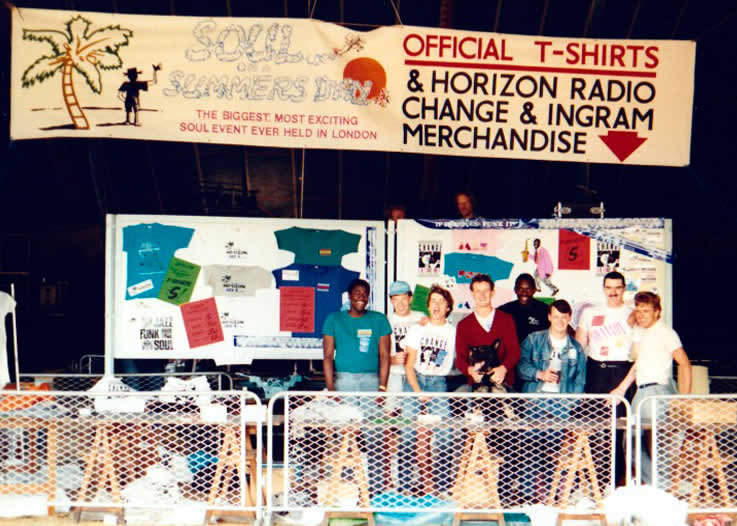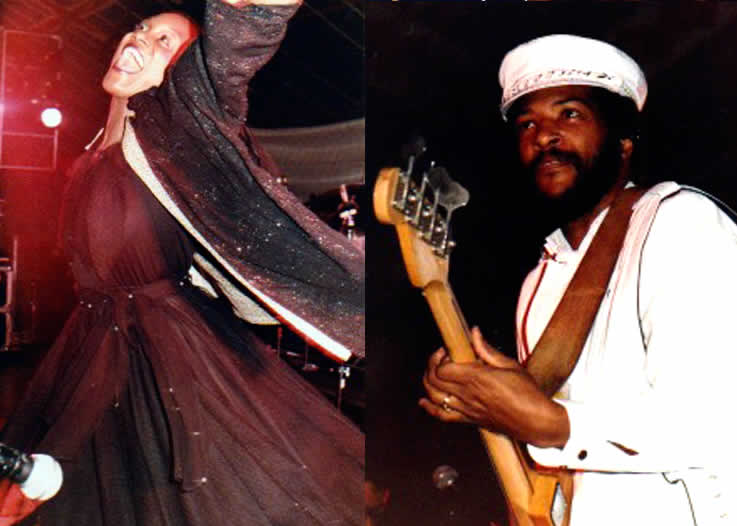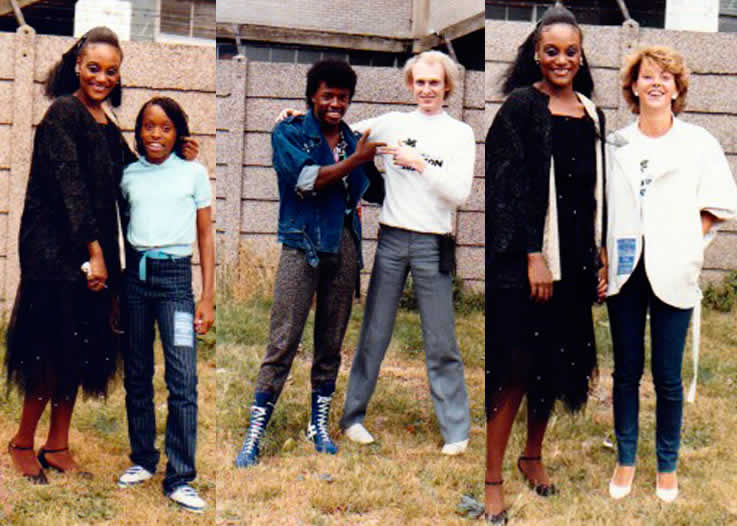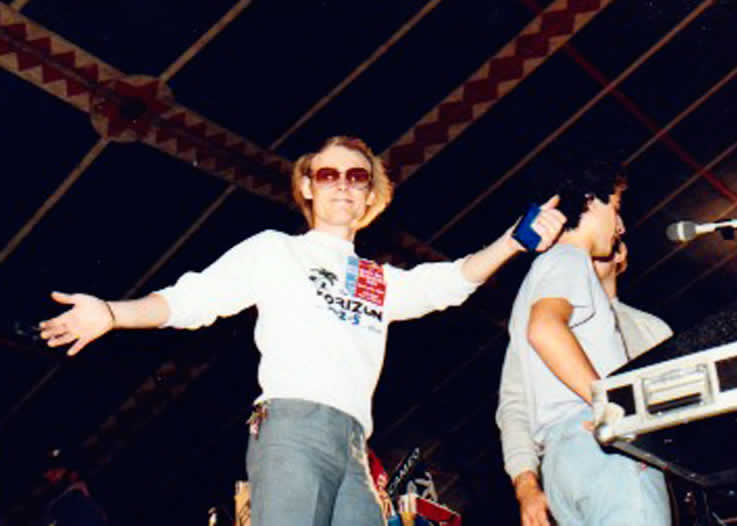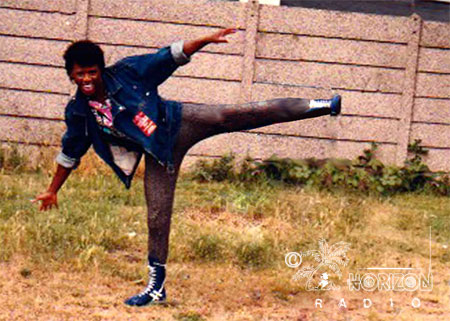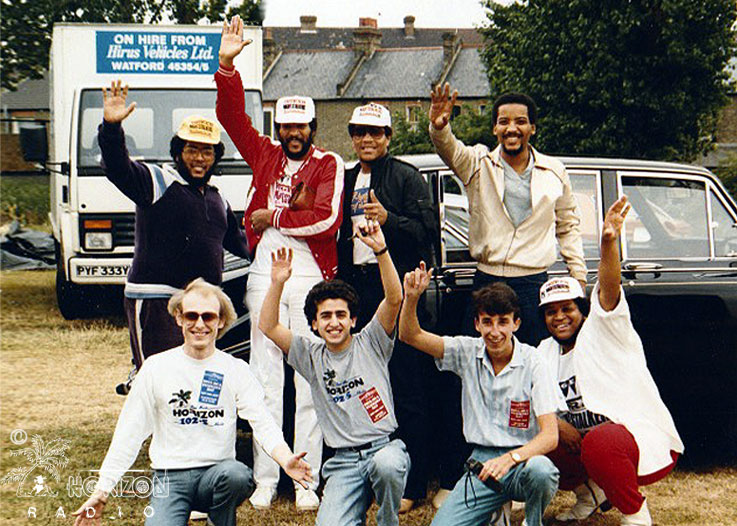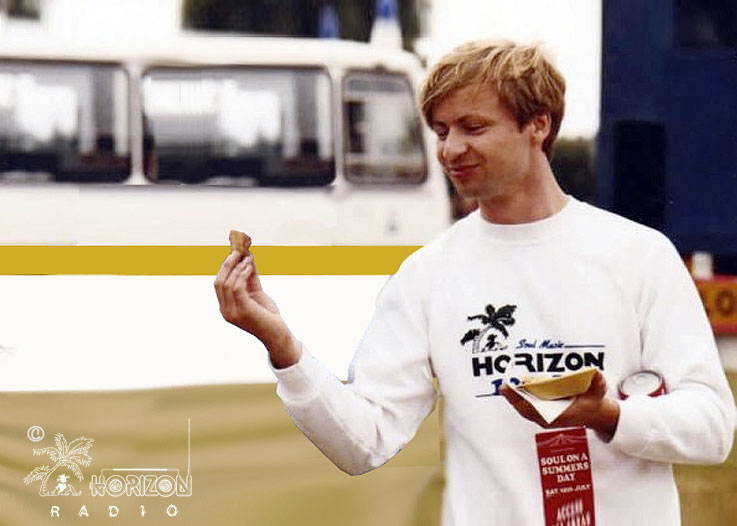 The Showstoppers Promotions & Horizon Radio Soul On A Summers Day event took place under giant circus big top in in King George Park Wandsworth London on the 14th of July 1984. The event saw US Bands Change and Ingram playing live with PA's from Loose Ends, Working Week, Evelyn Thomas, David Grant, Hi-Tension and many more. DJ's on the day were the Horizon Radio Team! One of the most memorable days in Horizon Radio's history.
Michael Bailey
This website is dedicated to the memory of Michael Bailey of Welwyn Garden City Hertfordshire. Mick was an avid Horizon Radio supporter, who was also the best friend anyone could ask for. Sadly Mick passed away in March 2011. You will never be forgotten Mick, it was a pleasure to know you.
R.I.E.P