Horizon Radio
London Studios
Horizon Radio London Studios 1981 – 1985
Horizon Radio London Studios from October 1981 to close down in September 1985
Studio's Introduction
Horizon Radio had 8 studios during its lifetime, all located in South London. At first they were very basic because there was a very good chance Eric (RID) and his merry men would take a fancy to them and they would walk off into the night?
Horizon Radio did not know at this time, that Mr Gotts needed a court order to takeaway equipment even transmitters that were located on private property. This was not found out until the early part of 1984. Once the loophole in the wireless telegraphy act had been discovered and tested, studio equipment, transmitters, along with records (Eric really loved records wonder if he sold them at a car boot) located on private property stayed intact until the law changed around August 1984.
Studio one was located in the kitchen of 28 Comber House Camberwell SE5. The studio consisted of a mobile disco mixer, 2 Garrard turntables, 2 x cassette decks 1x Shure microphone. Yep cheap and cheerful.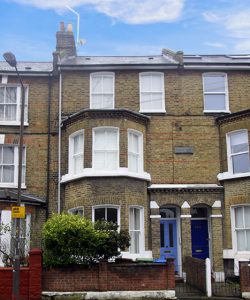 Studio's @ 258 Bellenden Road Peckham London SE15. 1984/5 ground floor, 1984 middle floor rear.
Horizon Radio Studios London, Studio 2 in 1982/4
Yes That One In The Roof
We have a memory loss as how this studio got created, but the location was high in the roof, in an area that probably once was used by the tenants to dry their washing. The area had not been used for years and you needed a key to get into the area.
It was a very large area; you probably could have got 2 more flats in there. The location had windows on both sides, with security bars on most windows. The far end had a 3 x 4 meter recess. Well it did one day when we went up, the next day no recess as a brick wall had built itself overnight.
No door to get in, off came a security grill (just one) pop out through the window, walk along Coping Stones, and pop in through next window. Don't fall as it 5 floors straight down. Make sure you shut the first window you left from and no one would ever find that studio. Power came from no 28. Inside corked tiled (40mm) to soundproof it. Eric did try to find it in 83, but alas he could not.
The studio as in the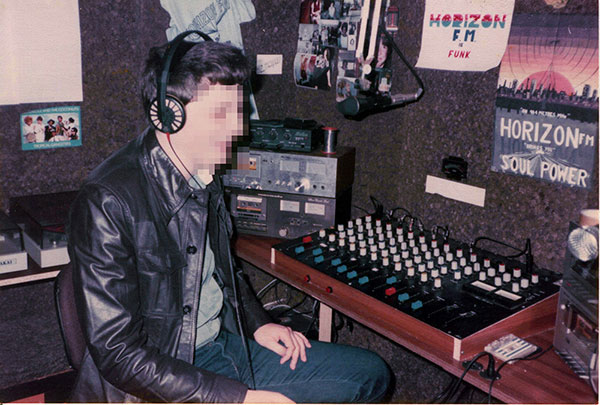 photo, it's the only one we have and it's ET our brilliant audio man in the chair, the designer and builder our magical stereo encoder (and broadcast mixer later), that measure back at the IBA very close to the best there was.
The studio had link aerials that could be moved remotely to any tower block we used. One was set on Peckham Rye Hill Park, our safe transmitter site that only came on after 11pm when we knew Eric was in bed. 2 clicks of a switch and Peckham came on remotely. The other transmitter site was manned and security with 2m radios that meant if Eric and co arrived, we had time to take the transmitter out before he got to the roof.
This was a safe studio for close to 18 months. The studio did get a visit in the end, we think it may have been someone who lived in Comber and had access to the roof as no damage to doors or windows and security bars where in place. Theft of equipment, reel to reel and so on.
A few DJ's and Artists who went in that studio got the shakes as they saw what they had to do to get along those Coping Stones, but everyone did with a little help. It was only after we realised just how dangerous access was! The photo's and artwork are by our listeners who sent them it to us, the back wall was plastered with artwork. It also had that certain album on the shelf. Thanks to all our listeners, nice to see your artwork and you all in those photo's. The Original Soul Family created by Horizon Radio back in 1982/3
Horizon Radio London Studio's 3/4/6
Sadly at this time we only have a photo of studio 6 which was around March of 1985. We had relocated into the old Horizon Radio Studio 3 location, while we where waiting for the complex we had rented at 62 Westow Hill Crystal Place to come over to us. The photo is close to what was there in late 83/early 84.
Horizon Radio London Studio 3
The desk is not the one in this picture but looks similar. The Desk was the full on broadcast hand built mixer created by ET. It had Penny and Giles long throw faders, 2x PPM's, 8 channels in all. We really wanted to keep that mixer as it was stunning. The rest of the equipment was 2 x AKG D202 Mics, 2 x Technics cassette decks, 2x Nakamichi cassette decks, 2x Technics sl1200's, a full on stereo encoder .
All locate in Junior Kings flat in his kitchen that we had cut in half so he could still make a cuppa, the other half was the studio which was very small, 2 people max. Located at 258 Bellenden Road Peckham SE15.
Horizon Radio London Studio 4
(The one they claimed was the biggest bust in radio history)
Again at 258, Horizon had taken over the flat on the middle floor (£40.00 a week rent), the studio was in the back room. This one did tick all the boxes of a radio station. Featuring the broadcast mixer built by ET and all equipment from down stairs. From cassettes we moved over to firing jingles and adds on broadcast Cart machines, 1 triple stacker cart machine was £2.5k, record & playback machine and an ITC single play cart machine plus another SL1200 turntable.
The studio had its own CCTV, so you knew who was at the front door. It is well known no transmitter was taken from that studio and with a cheap studio located in studio 3 downstairs, Eric could have been persuaded to take that. All DJ's had been trained on what to do, but the person using it that day thought more of his bag of records (£75) than the studio. No transmitter, a bit like being nicked for driving a peddle car at 100mph and accused of speeding. When a government department wants you they always get their man.
That was the end of Horizon Radio as Chris refused to put it back on due to the escapades of a certain DJ who was totally incompetent and what the DTI man in a suit had said plus what he later saw and heard that night (after the RID left) from some of the crew.
Nick Moss, Junior King and Len & Glen of Limited Edition Entertainments tried for 3 months to change Chris's mind, by Jan 85 after yet more outright lies by guess who? Chris said "you guys go and do it and I will give you the transmitters and set up for you"
Horizon Radio London Studio 5
Studio 5 was at Boxers Wine bar  Station Road Norwood Junction, Nick Moss had got all the equipment, as in studio 6. An Alice Broadcast Mixer, 2x SL1200's, 3 cassette decks, 1 AKG D202 mic. It fired up on a band 3 link about the 15th of Jan 85. Studio location was hard to get to for some DJ's. A complex at the 62 Westow Hill was almost with us, so we moved to a temporary studio.
Studio 6
As you see in the photo with John Osborne at the controls back at 258 in lower floor kitchen formally studio 3 of 84. Same equipment as Boxers had. That one also got a visit by Eric. The DJ we think was the Smile on the Dial aka Barry Jones, Brilliant DJ who did drive time and he drove that day and did as he should have done, out the back over a couple of fences and off down the road, but he was a fit guy not a fat one.
Eric got most of the studio but no one got nicked.
Studio 7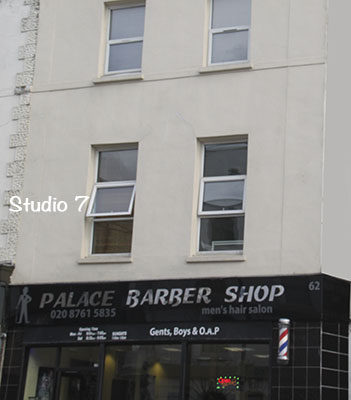 Up at 62 Westow Hill Crystal Palace, second floor far door as you go up the stairs. This time back on the secondhand disco mixer, a couple of Sl1200's and a couple of cassettes (Cheap Ones), plus our AKGD202 Mic we always loved. That carried us to the end except for the last day. The studio was about 25 meters from the transmitter, tracking was close to impossible.
Studio 8
Now this was going to be the new training studio as Chris Stewart from Jan to April 85 was at the National Broadcasting School on their last course before they closed down. This gave the Horizon team the idea for after Horizon's close down. They would put into use what Chris had learned at the NBS and use the studio to teach others to become broadcasters. (A bit like the national broadcasting school).
As the studio was being created with nice equipment, one of the Horizon DJ's who was on air that night turned up to go on air in the other studio in the complex and he says "Solar Radio are downstairs moving into the basement", Oh heck we thought, we have been here close to 5 months, Solar's spotters who were always up the Palace looking for JFM's studio in days gone by (Howe & Buick) had not seen any of Horizon's DJ's. Now we have to go and tell them we are here. We did, and got a warm welcome from Mr Tony Scales (What The F— Do You want). The Solar team packed up and left but had found the Horizon's Studio?
The close down of Horizon Radio on the 15th of September 1985 came off this desk you see. big and heavy (4 people and a van to move it), also the blue carts again heavy. The rest of the gear was stolen in a breaking and entering a few weeks after Horizon Radio had closed down to apply for a license.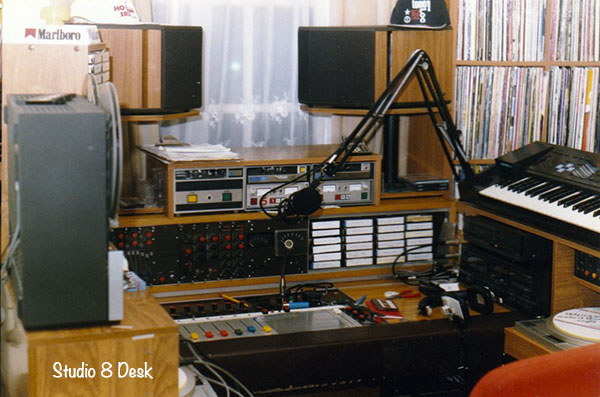 Stolen: New 2x SL1210's Black, Cassette Decks black Technics, Akg Mics, Brand new High speed Revox Reel to Reel and more, all gone along with studio 7 contents also. It was only used on the close down day up to around 4pm. The theft occurred a few of weeks after Horizon went off air.
One night we where having a meeting at 28 Comber talking about the training school, Nick Moss was there, Len possible a few others, Phone rings its Paul Buick and it's recorded and on open speaker.
"Hi Chris me and Roger are in Westow Hill and we are watching Zak and Ron Tom with the LWR crew as they nick your studio"
We went up to the studio, met Mr Buick & Mr Howe and sure enough the studio gear had gone. Buick & Howe soon legged it off when the police where called. We told the police and even the police said, "why did they not call us or take the registration numbers". Yes very good question that, don't you agree? More to the point why were they even up there at this time as all broadcasting had finished weeks earlier and both lived miles away???.
Horizon Radio was only around for a short time you may have read elsewhere. Fact Horizon Radio during it's 4 years, delivered at least double the amount of broadcast hours compared to all the others stations put together. Some only lasted a mere 10 months. In those 10 months the radio world turned so TOXIC, lies and threats started to flow (which has never stopped) and theft of studio equipment was on the up and up.
In 1986 the UK government cancelled the new radio licenses that so many worked hard to get. All because one soul station who tried to con people into thinking they were the No 1 radio station in London by forging radio listener figures. This upset the BBC and ILR stations who complained to the government asking how can you ever think of licensing people like this to run radio stations in this county. Radio Gangland was also mentioned many times.
Studio At Comber House In The Roof
Click Photo For Larger View
Studio's Today
Studio's have changed all digital and computer driven these days, but there is still room for a good old analog mixer. Having an old analog mixer (never used) still in its original box hanging around, might as well use it, this is what turned up.
1 x Soundcraft Studio 10 Mixer (Analog)
1x Apple 2009 MacPro Tower With Raid, Maxed Out.
4 x Apple Mac, Mini Mac's 3gh 16mb's Ram, Core I7.
3 x Mac 20inch & 2 X 23in Monitor/Screens.
2 x Technics SP15 Turntables 33/45/78 RPM with SME 3009 Arms.
2 x Pioneer CDJ 1000 CD Players.
2 X AKG D202 Microphones.
10 Alice Pro & 2 SBS Match It Packs.
1 x 16 Trig Qnap Server With 4 Red Hard Drives.
2 x MegaSeg Computer Software.
Abobe CC Audition.
Assorted Output Software.
Lets hope this one does not grow legs and walk, but we are watching certain airports in Asia, that is for sure?
Horizon Radio London Studios Share With Friends
Contact Horizon Radio
If you have a story to tell about Horizon Radio London or want to share photo's to include on this website, please email us from here with your content or suggestions. If you send content to us, we will assume you give authority to publish. Please do not send content that is not to be published.
Contact Horizon Radio London